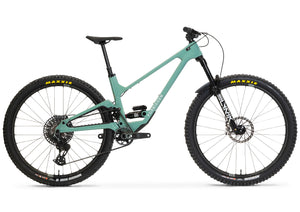 X0
Sale price Price £8,999.00 Regular price
A modern wolf in sheep's clothing. The DRUID X0 is a trail bike through and through. Its high pivot Trifecta suspension platform defies logic, simultaneously generating predictable traction and playful pop while offering an otherworldly ability to devour chunky terrain. With geometry that effortlessly balances stability and agility, the DRUID X0 is equally at home hammering out trail rides after work, crushing epic alpine traverses, and blasting weekend shuttle laps. This humble (on paper) trail bike boasts on-trail characteristics that don't just punch above their class they defy classification altogether. A bike that gives you all-day pedal efficiency when you want it and supernatural confidence to tackle tech when you need it. A short travel trail bike by definition and a kilometre crushing chunder devouring fun machine by determination.
All over the mountain, the more you ask of the Druid, the more you get. 

These bikes are available through our network of dealers and ready to ship today.
Intended Use
Trail
Spec Highlights
SRAM X0 Eagle AXS Transmission

Rockshox Lyrik Ultimate

Rockshox Super Deluxe Ultimate RCT2

SRAM Code Stealth Ultimate

Crankbrothers Synthesis 11 Carbon rims - i9 1/1 hubs

Full 29er or Mixed (MX) 29" Front / 27.5" Rear
Frame

Druid Full Carbon - 130mm Travel

High-Modulus Carbon Fiber | Trifecta High Single Pivot Suspension | One Ride Geometry | Enduro Max Bearings | 73mm Threaded BSA Bottom Bracket

fork

FOX Performance Elite 36 GRIP2 - 150mm Travel

GRIP 2 Damper with HSR/LSR/HSC/LSC | FLOAT Air Spring | 44mm Offset | Kabolt Thru-Axle | Matte Black with Custom Decals

Rear Shock

ROCKSHOX Super Deluxe Ultimate

2 Position Adjuster | DebonAir | RCT Damper | LLC Tune | 210x55mm

headset

Cane Creek HellBender 70

SHIS: ZS44/28.6|ZS56/40 | Premium Stainless Steel Bearings | Alloy Dual-Seal Crown Race

grips

RaceFace Half Nelson

Single Sided Lock-On | Black

handle bars

RaceFace Turbine R

800mm Width | 20mm Rise | 35mm Bar Bore | Black Anodized with Grey Graphics

stem

RaceFace Aeffect R

50mm Length | 35mm Bar Clamp | Black Anodized with Grey Graphics

seat post

RaceFace Aeffect R

31.6mm | Size Specific Travel :S=125mm - M=150mm - L/XL:170mm

seat post remote

RaceFace Aeffect R 1x

Textured no-slip thumb pad, ergonomically designed for 1X

seat post clamp

Forbidden Custom

7075 CNC Aluminum | 34.9mm | Black Anodized

saddle

SDG Radar Chromo

Chromoly Rails | Black Synthetic Cover with Black Cordura Reinforcements

front brake

SRAM G2 RSC 4-Piston

Reach and Contact Adjustment | Steel Backed Metal Sintered

rear brake

SRAM G2 RSC 4-Piston

Reach and Contact Adjustment | Steel Backed Metal Sintered

front brake rotor

SRAM Centerline - 180mm

6-Bolt

rear brake rotor

SRAM Centerline - 180mm

6-Bolt

rear shifter

SRAM GX 12speed

MatchMaker X

rear derailleur

SRAM GX 12speed

Clutch

cassette

SRAM GX 10-52T

12speed | XD | 10-12-14-16-18-21-24-28-32-36-42-52T

chain

SRAM GX

12speed | Links = S:126 / M:128/ L:130 XL:132

crankset

SRAM GX DUB 32T

170mm All Sizes | 52mm Chainline | Black

pedals

Not included

chain tensioner

Forbidden Idler Pulley with e.13 Custom Chainguide

Forbidden Integrated Idler | e.13 TRS Plus | Molded Inner with Compact Outer | Black

bottom bracket

SRAM DUB

28.99mm Spindle | DUB | Threaded BSA

front hub

Crankbrothers 15 x 110

Boost

rear hub

Crankbrothers 12 x 148

XD Driver | 148x12mm | 32hole | 6-Bolt | Black Anodized Decal

spokes

Black Stainless

Front: D-Light 2.0/1.65/2.0mm / Rear: Race 2.0/1.8/2.0mm | Double Butted | Black ED Coated Stainless | Black Brass 14mm Nipples

rims

Crankbrothers Synthesis Enduro Alloy

Front 31.5mm / Rear 29.5mm Internal Width | Welded | Tubeless Ready | Black with Grey Graphics

front tire

Maxxis Assegai 29"x2.5"

3C MaxxTerra Rubber Compound | 60tpi | Folding | Tubeless Ready | EXO Casing

rear tire

Maxxis Minion DHR II 27.5"x2.4"

3C MaxxTerra Rubber Compound | 120tpi | Folding | Tubeless Ready | EXO+ Casing

Included

RaceFace Tubeless Valves

41mm Presta Valve with Removable Core | Valve Washer Included | Black

Ratcheting Torque Wrench Kit **

5Nm + 6Nm Torque Cylinders | Micro 1/4" Ratchet | 10 Bits (Allen: 2.5/3/4/5/6/8 - Philips - Flathead - T25/T30) | Black Tool Pouch

Digital Shock Pump **

LCD Digital Display

Spare Derailleur Hanger

*Please note, we make every effort to ensure accuracy but specifications and prices are subject to change without notification.

**Included on direct website orders only
Frame

Druid Full Carbon - 130mm Travel

High-Modulus Carbon Fiber | Trifecta High Single Pivot Suspension | One Ride Geometry | Enduro Max Bearings | 73mm Threaded BSA Bottom Bracket

fork

FOX Performance Elite 36 GRIP2 - 150mm Travel

GRIP 2 Damper with HSR/LSR/HSC/LSC | FLOAT Air Spring | 44mm Offset | Kabolt Thru-Axle | Matte Black with Custom Decals

Rear Shock

ROCKSHOX Super Deluxe Ultimate

2 Position Adjuster | DebonAir | RCT Damper | LLC Tune | 210x55mm

grips

RaceFace Half Nelson

Single Sided Lock-On | Black

handle bars

RaceFace Turbine R

800mm Width | 20mm Rise | 35mm Bar Bore | Black Anodized with Grey Graphics

stem

RaceFace Aeffect R

50mm Length | 35mm Bar Clamp | Black Anodized with Grey Graphics

seat post

RaceFace Aeffect R

31.6mm | Size Specific Travel :S=125mm - M=150mm - L/XL:170mm

seat post remote

RaceFace Aeffect R 1x

Textured no-slip thumb pad, ergonomically designed for 1X

seat post clamp

Forbidden Custom

7075 CNC Aluminum | 34.9mm | Black Anodized

saddle

SDG Radar Chromo

Chromoly Rails | Black Synthetic Cover with Black Cordura Reinforcements

front brake

SRAM G2 RSC 4-Piston

Reach and Contact Adjustment | Steel Backed Metal Sintered

rear brake

SRAM G2 RSC 4-Piston

Reach and Contact Adjustment | Steel Backed Metal Sintered

front brake rotor

SRAM Centerline - 180mm

6-Bolt

rear brake rotor

SRAM Centerline - 180mm

6-Bolt

rear shifter

SRAM GX 12speed

MatchMaker X

rear derailleur

SRAM GX 12speed

Clutch

cassette

SRAM GX 10-52T

12speed | XD | 10-12-14-16-18-21-24-28-32-36-42-52T

chain

SRAM GX

12speed | Links = S:126 / M:128/ L:130 XL:132

crankset

SRAM GX DUB 32T

170mm All Sizes | 52mm Chainline | Black

chain tensioner

Forbidden Idler Pulley with e.13 Custom Chainguide

Forbidden Integrated Idler | e.13 TRS Plus | Molded Inner with Compact Outer | Black

bottom bracket

SRAM DUB

28.99mm Spindle | DUB | Threaded BSA

front hub

Crankbrothers 15 x 110

Boost

rear hub

Crankbrothers 12 x 148

XD Driver | 148x12mm | 32hole | 6-Bolt | Black Anodized Decal

spokes

Black Stainless

Front: D-Light 2.0/1.65/2.0mm / Rear: Race 2.0/1.8/2.0mm | Double Butted | Black ED Coated Stainless | Black Brass 14mm Nipples

rims

Crankbrothers Synthesis Enduro Alloy

Front 31.5mm / Rear 29.5mm Internal Width | Welded | Tubeless Ready | Black with Grey Graphics

front tire

Maxxis Assegai 29"x2.5"

3C MaxxTerra Rubber Compound | 60tpi | Folding | Tubeless Ready | EXO Casing

rear tire

Maxxis Minion DHR II 27.5"x2.4"

3C MaxxTerra Rubber Compound | 120tpi | Folding | Tubeless Ready | EXO+ Casing

Included

RaceFace Tubeless Valves

41mm Presta Valve with Removable Core | Valve Washer Included | Black

Ratcheting Torque Wrench Kit **

5Nm + 6Nm Torque Cylinders | Micro 1/4" Ratchet | 10 Bits (Allen: 2.5/3/4/5/6/8 - Philips - Flathead - T25/T30) | Black Tool Pouch

Digital Shock Pump **

LCD Digital Display

Spare Derailleur Hanger

*Please note, we make every effort to ensure accuracy but specifications and prices are subject to change without notification.

**Included on direct website orders only