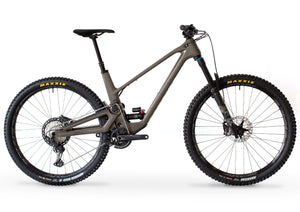 XT
Sale price Price £3,250.00 Regular price £6,499.00
The no holds barred Druid XT was specced from the ground up with performance and rock-solid reliability in mind, two elements you'll want when you hit the terrain this tearaway was designed for. Our 'One Ride' geometry philosophy ensures consistent sizing across the spectrum, giving riders of all shapes and sizes a shared ride experience aboard the Druid. The 65.6-degree head tube angle, an 'actual' seat tube angle and stack height that increases per size back this up and the front and rear centres, which similarly grow per size, dish out one of the most balanced rides going. With 150mm travel up front and 130mm in the rear, combined with a suspension system that eliminates unwanted and detrimental drivetrain forces, the Druid XT will be begging you to go places few trail bikes dare.
Spec Highlights
Shimano XT drivetrain and XT brakes

Fox 36 Performance Elite

Fox Float DPX2 Performance Elite

Raceface ARC 30 wheels - DT Swiss 350 hubs

Full 29er
Tax included.
Shipping
calculated at checkout.
Please note:
due to high order volume, products will be shipped within 5-7 business days.
Frame

Druid Full Carbon - 130mm Travel

High-Modulus Carbon Fiber | Trifecta High Single Pivot Suspension | One Ride Geometry | Enduro Max Bearings | 73mm Threaded BSA Bottom Bracket

fork

FOX Performance Elite 36 GRIP2 - 150mm Travel

GRIP 2 Damper with HSR/LSR/HSC/LSC | FLOAT Air Spring | 44mm Offset | Kabolt Thru-Axle | Matte Black with Custom Decals

Rear Shock

ROCKSHOX Super Deluxe Ultimate

2 Position Adjuster | DebonAir | RCT Damper | LLC Tune | 210x55mm

headset

Cane Creek HellBender 70

SHIS: ZS44/28.6|ZS56/40 | Premium Stainless Steel Bearings | Alloy Dual-Seal Crown Race

grips

RaceFace Half Nelson

Single Sided Lock-On | Black

handle bars

RaceFace Turbine R

800mm Width | 20mm Rise | 35mm Bar Bore | Black Anodized with Grey Graphics

stem

RaceFace Aeffect R

50mm Length | 35mm Bar Clamp | Black Anodized with Grey Graphics

seat post

RaceFace Aeffect R

31.6mm | Size Specific Travel :S=125mm - M=150mm - L/XL:170mm

seat post remote

Shimano SL-MT800

I-Spec EV Integrated Dropper Remote

seat post clamp

Forbidden Custom

7075 CNC Aluminum | 34.9mm | Black Anodized

saddle

SDG Radar Chromo

Chromoly Rails | Black Synthetic Cover with Black Cordura Reinforcements

front brake

Shimano XT 4-Piston

BL-M8100 Lever | BR-M8120 Calipers | Metal Pads with Cooling Fins

rear brake

Shimano XT 4-Piston

BL-M8100 Lever | BR-M8120 Calipers | Metal Pads with Cooling Fins

front brake rotor

Shimano XT - 180mm

RT-MT800 | IceTech | Freeza | Center-Lock | External Serated Lock-Ring

rear brake rotor

Shimano XT - 180mm

RT-MT800 | IceTech | Freeza | Center-Lock | External Serated Lock-Ring

rear shifter

Shimano XT 12speed

I-Spec EV Integrated Shifter/Brake Lever

rear derailleur

Shimano XT 12speed

Shadow+ with Clutch

cassette

Shimano XT 10-51T

12speed | MicroSpline | 10-12-14-16-18-21-24-28-33-39-45-51T

chain

Shimano XT

CN-M8100 | 12speed | Links = S:126 / M:128 / L:130 XL:132

crankset

Shimano XT 32T

FC-M8100 | 170mm All Sizes | 52mm Chainline | Black

pedals

Not included

chain tensioner

Forbidden Idler Pulley with e.13 Custom Chainguide

Forbidden Integrated Idler | e.13 TRS Plus | Molded Inner with Compact Outer | Black

bottom bracket

Shimano Threaded

BB-MT800 | 24mm Spindle | HollowTechII | Threaded BSA

front hub

DT Swiss 350

110x15mm | 32hole | Center-Lock | Black Anodized with White Decal

rear hub

DT Swiss 350

18T Star Ratchet | 148x12mm | 32hole | Black Anodized with White Decal

spokes

Black Stainless

2.0mm Black ED Coated Stainless | Black Brass 14mm Nipples

rims

RaceFace ARC OFFSET

30mm Internal Width | 6069 Aluminum | Tubeless Ready | 32hole | Black with Grey Graphics

front tire

Maxxis Assegai 29"x2.5"

3C MaxxTerra Rubber Compound | 60tpi | Folding | Tubeless Ready | EXO Casing

rear tire

Maxxis Minion DHR II 29"x2.4"

3C MaxxTerra Rubber Compound | 120tpi | Folding | Tubeless Ready | EXO+ Casing

Included

RaceFace Tubeless Valves

41mm Presta Valve with Removable Core | Valve Washer Included | Black

Ratcheting Torque Wrench Kit **

5Nm + 6Nm Torque Cylinders | Micro 1/4" Ratchet | 10 Bits (Allen: 2.5/3/4/5/6/8 - Philips - Flathead - T25/T30) | Black Tool Pouch

Digital Shock Pump **

LCD Digital Display

Spare Derailleur Hanger

*Please note, we make every effort to ensure accuracy but specifications and prices are subject to change without notification.

**Included on direct website orders only
Frame

Druid Full Carbon - 130mm Travel

High-Modulus Carbon Fiber | Trifecta High Single Pivot Suspension | One Ride Geometry | Enduro Max Bearings | 73mm Threaded BSA Bottom Bracket

fork

FOX Performance Elite 36 GRIP2 - 150mm Travel

GRIP 2 Damper with HSR/LSR/HSC/LSC | FLOAT Air Spring | 44mm Offset | Kabolt Thru-Axle | Matte Black with Custom Decals

Rear Shock

ROCKSHOX Super Deluxe Ultimate

2 Position Adjuster | DebonAir | RCT Damper | LLC Tune | 210x55mm

grips

RaceFace Half Nelson

Single Sided Lock-On | Black

handle bars

RaceFace Turbine R

800mm Width | 20mm Rise | 35mm Bar Bore | Black Anodized with Grey Graphics

stem

RaceFace Aeffect R

50mm Length | 35mm Bar Clamp | Black Anodized with Grey Graphics

seat post

RaceFace Aeffect R

31.6mm | Size Specific Travel :S=125mm - M=150mm - L/XL:170mm

seat post remote

Shimano SL-MT800

I-Spec EV Integrated Dropper Remote

seat post clamp

Forbidden Custom

7075 CNC Aluminum | 34.9mm | Black Anodized

saddle

SDG Radar Chromo

Chromoly Rails | Black Synthetic Cover with Black Cordura Reinforcements

front brake

Shimano XT 4-Piston

BL-M8100 Lever | BR-M8120 Calipers | Metal Pads with Cooling Fins

rear brake

Shimano XT 4-Piston

BL-M8100 Lever | BR-M8120 Calipers | Metal Pads with Cooling Fins

front brake rotor

Shimano XT - 180mm

RT-MT800 | IceTech | Freeza | Center-Lock | External Serated Lock-Ring

rear brake rotor

Shimano XT - 180mm

RT-MT800 | IceTech | Freeza | Center-Lock | External Serated Lock-Ring

rear shifter

Shimano XT 12speed

I-Spec EV Integrated Shifter/Brake Lever

rear derailleur

Shimano XT 12speed

Shadow+ with Clutch

cassette

Shimano XT 10-51T

12speed | MicroSpline | 10-12-14-16-18-21-24-28-33-39-45-51T

chain

Shimano XT

CN-M8100 | 12speed | Links = S:126 / M:128 / L:130 XL:132

crankset

Shimano XT 32T

FC-M8100 | 170mm All Sizes | 52mm Chainline | Black

chain tensioner

Forbidden Idler Pulley with e.13 Custom Chainguide

Forbidden Integrated Idler | e.13 TRS Plus | Molded Inner with Compact Outer | Black

bottom bracket

Shimano Threaded

BB-MT800 | 24mm Spindle | HollowTechII | Threaded BSA

front hub

DT Swiss 350

110x15mm | 32hole | Center-Lock | Black Anodized with White Decal

rear hub

DT Swiss 350

18T Star Ratchet | 148x12mm | 32hole | Black Anodized with White Decal

spokes

Black Stainless

2.0mm Black ED Coated Stainless | Black Brass 14mm Nipples

rims

RaceFace ARC OFFSET

30mm Internal Width | 6069 Aluminum | Tubeless Ready | 32hole | Black with Grey Graphics

front tire

Maxxis Assegai 29"x2.5"

3C MaxxTerra Rubber Compound | 60tpi | Folding | Tubeless Ready | EXO Casing

rear tire

Maxxis Minion DHR II 29"x2.4"

3C MaxxTerra Rubber Compound | 120tpi | Folding | Tubeless Ready | EXO+ Casing

Included

RaceFace Tubeless Valves

41mm Presta Valve with Removable Core | Valve Washer Included | Black

Ratcheting Torque Wrench Kit **

5Nm + 6Nm Torque Cylinders | Micro 1/4" Ratchet | 10 Bits (Allen: 2.5/3/4/5/6/8 - Philips - Flathead - T25/T30) | Black Tool Pouch

Digital Shock Pump **

LCD Digital Display

Spare Derailleur Hanger

*Please note, we make every effort to ensure accuracy but specifications and prices are subject to change without notification.

**Included on direct website orders only